Store


Locator Software
Powerful store locator software that integrates beautifully with every major website, CMS or storefront.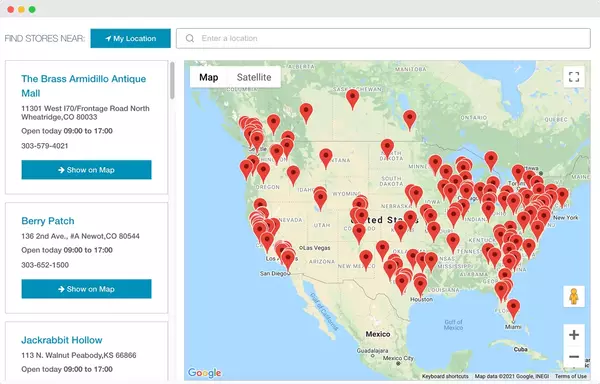 Easy to use and packed with power user features
Our store locator software looks fantastic out of the box, but it's also fully customizable to meet your business needs.
Choose from a variety of layouts
We offer full screen map layouts, location lists to the side or below the map, a Mapless design and grid based location lists.
Integrated mapping service
Unlike other locator services we include a generous amount of monthly mapping service usage with all of our plans.
Powerful filtering capabilities
Build product locator pages using our Filters feature (Demo). Filters can be checkboxes, dropdown lists or hidden, your choice of course.
Allow others to submit locations
We're the only store locator service that allows you to embed a location submission form in your website so others can submit and edit locations.
Built in Rating and Review system
All plans include a built-in ratings and review system so that your customers can rate the businesses in your locator
Custom color schemes
Our style editor allows you to set the map color scheme and gives you full control of text, background and button colors. No CSS needed!
Multi language support
The Language editor allow you to change all text labels used in your locator and to deploy your locator in multiple locales.
Integrated layout editor
Need extra buttons, links or images in your store layout? Not a problem, this can all be done via our intuitive drag and drop Layout editor.
Built in Analytics
Track, analyse and export all search and clickstream data from your store locator. Includes conversion tracking integrations with all major platforms.
Simple, streamlined setup and installation
We've spent a lot of time making sure that getting up and running is a quick, intuitive and simple process, even if you are a complete web beginner. Here's how it works:
1
Sign up for a free trial
We offer a 14 day, no credit card required trial. It's fully featured so you can check everything meets your needs.
2
Create your store list
You can import locations using an Excel or CSV file, sync from a Google Sheet or use our Store Editor.
3
Adjust appearance
Choose from one of our base layouts and use the layout and appearance editors to match your needs.
4
Install on your website
Installation simply requires copying and pasting our installation code into your web page.
Our store locator software can be used by any kind of business or service
Interested to see what you can do with our locator? Check out some of the links below to some of our favorite customer integrations and we have more in our customer showcase.
Runs on all major platforms - no coding required
Our store locator software supports all major CMS, eCommerce and other website platforms with no coding required - ever! Here are a few of the major ones but don't worry, if your platform is not listed, we almost certainly support it. Feel free to check with our support team first.
Trusted by over 1,000 of the world's leading companies
Free 14 day fully featured trial. * No credit card required.