If you manage, or are building a website for any kind of business with physical premises, then adding a store locator to your Facebook page is a powerful tool to help drive customers to your physical store locations. In this article we describe how to add a store (or any other kind of physical business) locator to your Facebook page.
Our store locator is suitable if your business is tied to any physical location where customers would need to visit. Examples of this include networks of partners, distributors, retailers, stores or stockists or if your businesses have physical presence such as doctors, dentists, karate dojos or indeed any type of business.
Here's how to add our store locator to your Facebook page:
Step 1
Create a Store Locator Pro account using this link: http://www.storelocatorwidgets.com/admin/signup
Step 2
Click here to get your embed code, highlight it and copy it to your clipboard.
Step 3
Add the Static HTML iFrame tab to your Facebook page (search for 'HTML' in the search bar), select 'Static HTML: iFrame tabs'.
Click on 'Add Static HTML to a Page'.
Step 4
Paste in the embed code you copied in step 1 above into the text box and click on 'Save & Publish'.
Save the content (rename the Tab if you like to 'Store Locator' or whatever) and you're done
That's all there is to it. We also recommend you spend some time customizing and branding the store locator for your needs so that it matches your business branding. You can customise everything including the text used in all the store locator buttons and hint text, the language used and the appearance of everything. When it comes to customising how the integrated Google Map is displayed on your site, you have plenty of options for setting it up the way you want. This includes setting the start location of the map , editing the map's dimensions, choosing the default map type, and selecting a map marker from the bundled set of icons that we include.
For example, you can upload any number of custom map markers to brand your map with you own custom colors and logos as shown below: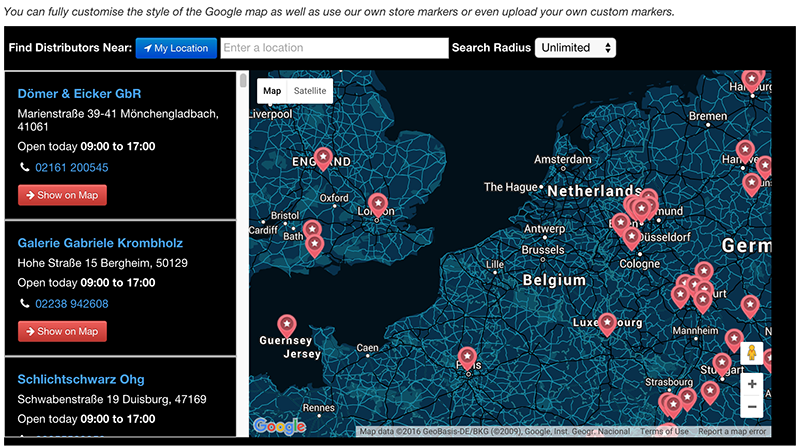 You should also choose between our two main display formats - side by side vs under and over. These two options are shown below - we've found that for Facebook, the under and over format makes best use of the limited width of the Facebook central page.
That's all for now. As always, if you have any questions regarding this blog, let us know in the comments section below.