We've been hard at work integrating a bunch of your requests into our locator and admin console to improve how the locator software works and also to make your life easier when managing it. This month we have a bumper list of updates for you as a large set of new features and additions have been added to our store locator service.
Customise Store Editor Interface
This is the largest update and has been requested by a number of our customers so we're delighted to be able to announce that it's now available. You can now customize which fields are visible when you're editing a store location in the admin console and you can also change the order in which fields are displayed. This allows you to hide any location settings that you don't use in your locator to un-clutter the interface.
To adjust what's visible, visit the
Admin Console
tab on the Layout page. Drag and drop to change the order of visible elements and drag and drop elements to or from the Hidden stack to hide or unhide them.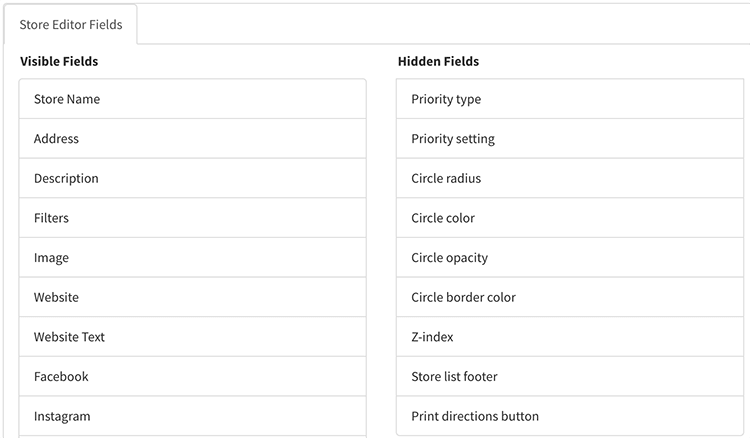 Improved Filter Editing
Another improvement to the Store Editor page is Filters are now shown as checkboxes so you can quickly select and deselect which Filters apply to a Store. As before, you can also create new filters on this page.

NEW: Circle Radiuses
One of our customers suggested this to us - we think it's probably a fairly niche feature but it may be useful for other customers and it was simple for us to add to our locator. This new feature allows you to set and display a Circle radius around your Store location on the map. This could be useful in a couple of scenarios such as showing the delivery radius for a restaurant or the sales area that a business covers. You can also set the circle color and transparency as part of this new feature.

To see the new circle settings, you'll need to customize which fields are visible in your store editor by visiting the
Admin Console
tab and dragging and dropping the Circle radius elements from the Hidden stack on the right to the Visible stack on the left to show them.
NEW: Custom Element Fields with Titles and Audio Player
We added two new custom element types to the 'Add Element' list on the
Location Layout
page as follows: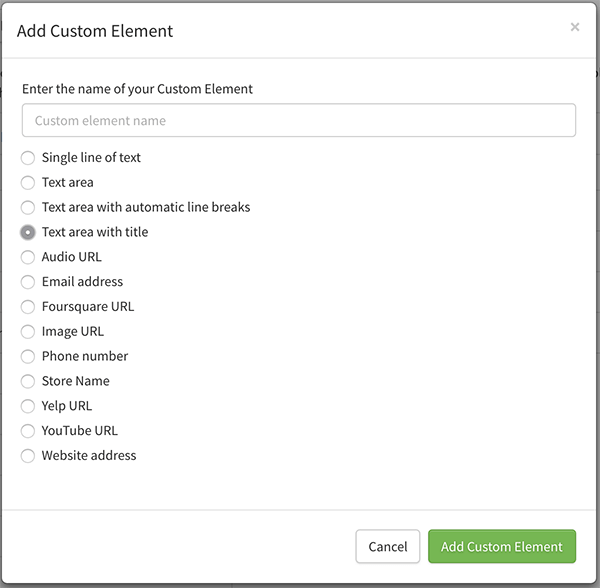 Text area with title - This allows you to set both a Title and Content for the element. For example, a Title of 'Drinks' and Content listing the Drinks on Sale.
Audio URL - if you set this to the URL of an MP3 file, audio player controls will be added to the store locator allowing you to play the audio directly from within your store locator.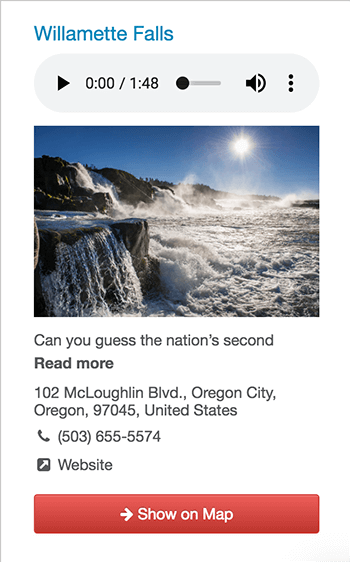 NEW: Search Results Sort Order
In some cases you don't want the search results to be returned in order of distance from the searched location which is our store locator software's default setting. For example, you might want to always display the search results alphabetically or perhaps you want to sort by a custom field such as a date. We've now added the ability to set this sort order from the Settings page as shown below:

That's all for now. As usual, if you have a suggestion for a new feature that you'd like to see in our locator, please get in touch - our best new features invariably come from our customers.
Finally, thank you to all our customers who suggested the features above!