January 18th, 2016
If you manage, or are building a website for any kind of business with physical premises, then adding a store locator is a great idea. Alternatively, if you sell products through a network of partners, distributors, retailers, stores or stockists and need your customers to be able to find those store locations then it's can be potentially incredibly valuable to your business to add a store locator facility to your site.
A store locator widget embedded in your website will allow you to bulk upload or enter the details of multiple stores or offices and then make it very easy for your website visitors to find the one nearest to them either automatically using the GPS built into their phone or based off their computer's IP address) or by the customer entering their current location as an address or zip code / postcode.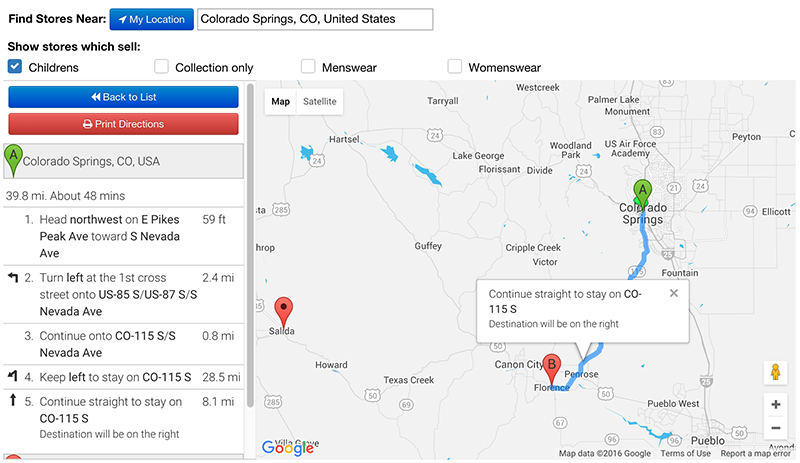 However, even if you aren't running a website for an online store, our location finder plugin can still be used to enhance the usefulness of your site. By adding the locations of interesting landmarks, places of local interest, or businesses related to your site's topic, you can help your readers find the information they are looking for. If your site features any kind of list or directory of service providers of any type (for example, doctors, gyms, opticians, plumbers, the list is endless), then our plugin can be really useful.
Now your website has a useful location finder and listing feature to help the visitors to your site find their way to your stores, restaurants, place of business, or other notable locations. Our plugin is completely flexible and allows you to add the details of any kind of establishment or landmark to your listings; it isn't just limited to stores. So whether you are running a website for a store, or just want to list the locations of any notable places on your site and them make them easily findable by your audience, you can hopefully see that our store location service is very simple to add to your website and can really help drive customer business to your store locations.
Adding a store locator to your website is incredibly easy – there are just 3 simple steps required once you have created an account with us:
Step 1: Import locations
First, download the sample store format by clicking on the Bulk Import button at the top of your Stores page: Then in the window that appears, click on the 'Excel' link to download in Excel format (preferred) or on the 'CSV' link to download in CSV format. Open the downloaded sample file in Excel or your preferred spreadsheet application.



You'll see columns for each of the types of data that can be imported into Store Locator Pro. The only required information that you must provide are the Store Name and some address data. Alternatively, if you prefer, our friendly support team will be happy to do this for you (completely free!), just email us the list.
Step 2: Customize and brand
The next step is to adjust and personalize your store locator using our admin console - no need to touch any code. You can customise everything including the text used in all the store locator buttons and hint text, the language used and the appearance of everything. When it comes to customising how the integrated Google Map is displayed on your site, you have plenty of options for setting it up the way you want. This includes setting the start location of the map , editing the map's dimensions, choosing the default map type, and selecting a map marker from the bundled set of icons that we include.
For example, you can upload any number of custom map markers to brand your map with you own custom colors and logos as shown below: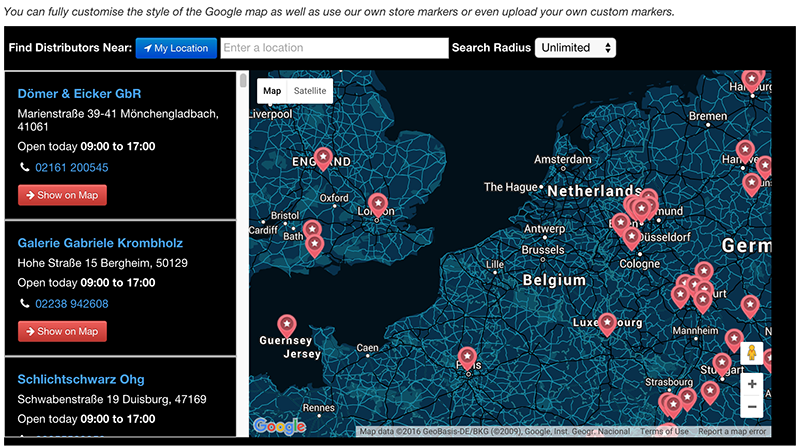 3: Embed on your site
Simply cut and paste the widget code into your site and you're set up to drive customers to your closest locations. Once that page loads, your visitors will be presented with the search field to enter their address or current location, along with the ability to set a maximum distance from where they are. Once the user has carried out a search, the store locator will sweep to their location and any stores within the entered radius will be displayed.
As the plugin uses Google Maps, all the functionality of this application is available, such as zooming in, changing the view, and getting directions to the stores shown in the search results. Furthermore, the stores located within the specified radius of the user's location are listed by the side of the map, displaying the details that were entered when adding the store. These locations are sorted by distance from the user's specified location.
Providing directions to the closest store is one of the key elements of any store locator service and our Store Locator has directions embedded directly inside the widget so customers do not need to be redirected to Google Maps or any other directions service to get directions to your store location. This means you retain customer engagement with your website.
A fully responsive Store Locator should support every mobile platform - we've found that 35% of all store locator searches are now conducted via mobile. This means directions need to leverage the built in Apple Maps or Google Maps services so that native directions can be used to navigate to the customer's nearest store. If your existing store locator is not using the native Maps Apps then you are potentially losing customers as few users are prepared to cut and paste addresses from a static store locator into the Maps Apps - they expect and demand direct integration.
We have integrations for all the most common online store platforms - Shopify, Magento, BigCommerce, Volusion, Wordpress, Weebly, Wix, 3Dcart, Facebook and more. So far, we haven't found a single store or publishing platform that we haven't managed to integrate our store locator into so if you have a need for a location service on any other kind of platform, just reach out to our support team who will be happy to help.
That's all for now. As always, if you have any questions regarding this blog, let us know in the comments section below. If you'd like to get started with your locator, click here to start a free trial.