A Google Maps API key is required for all new deployments of our store locator. Don't worry, getting an API key (and adding it to your Store Locator) is really fast and simple.
1. Follow this link and click on 'GET STARTED':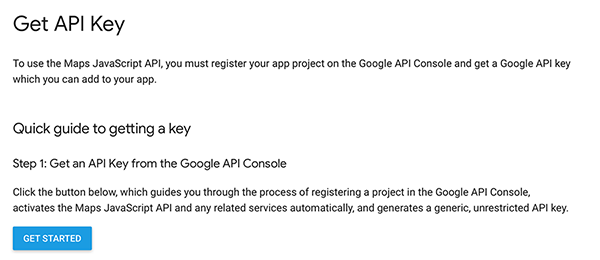 2. Sign in using any Google account. If you don't have a Google account you can create a brand new one just for this purpose.
3. Check all three boxes when you are asked which APIs to enable: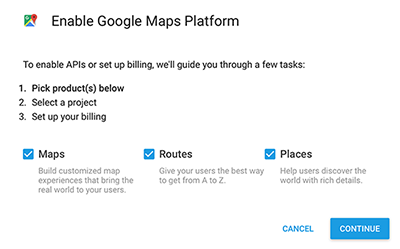 4. Give your project a name- for example 'My Project' and click Next:
5. Enable Billing by clicking on 'CREATE BILLING ACCOUNT'.
Note: The Google Maps free usage quota is quite generous, so it's unlikely that you will incur any additional charges for your store locator unless you expect it to be used heavily. However, as of 3rd May 2018, all new API users are required to enable billing to get access to this free quota. If you have any concerns about this, drop us an email and we'll be happy to discuss further.

6. Give your billing account a name and select 'Continue':

7. Follow the steps to enter your business information and add a payment card to your account.
8. You're almost there! Once that's done, click here to create an API key.
9. Click on 'Create Credentials' -> API key: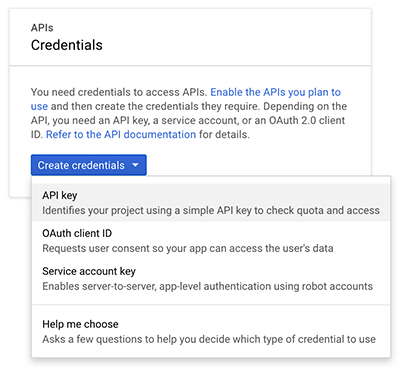 10. Your new API key has now been created. Click on the copy icon on the right hand side: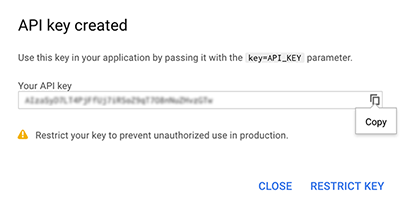 11. Add your new key to your Store Locator account by pasting it into the box at the top of this page and clicking the Save API Key button.

12. The final step is to choose your installation type under 'Install on your website' and either follow the instructions for your platform or simply copy the HTML Embed Code and add it to the page on your website on which you would like your store locator to appear:

If you already have our store locator installed on your website, you should replace your existing Embed Code with the new one shown.
Warning: sometimes it can take up to 5 minutes for your new API key to be enabled by Google so it may not work immediately.